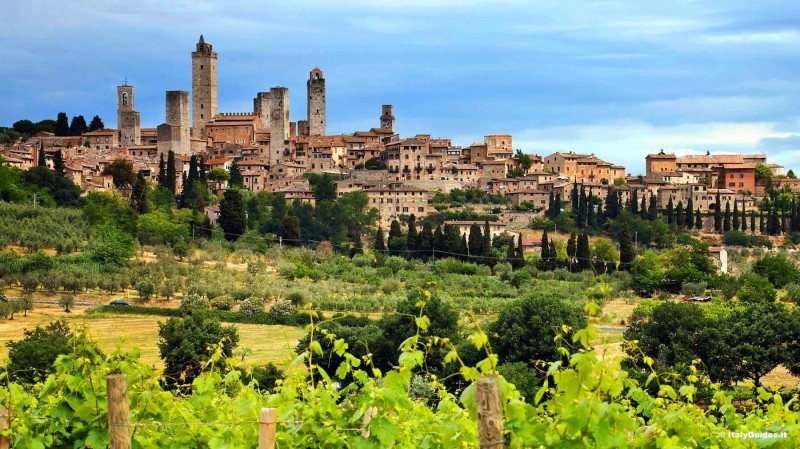 In the heart of Tuscany, on a hill overlooking Val d'Elsa, is located the beautiful village of San Gimignano, evocative masterpiece of medieval building techniques. Its foundation is a legend: in 63 a.C, after the defeat of Catilina, unmasked in the Senate by Cicerone with his famous prayer, two of his followers Munzio and Silvio took refuge in Tuscany, where they built a castle in the same place where actually we can admire San Gimignano, testified for the first time in 929.
Why this name? In the 6th century, during the the Greek-Gothic war, the village has been saved from the siege of Totila, king of the Goths, called "immortal", thanks to the appearance of San Gimignano, Bishop of Modena, who has already saved his own town by the fearsome Attila just a century earlier.
San Gimignano represents like no others an example of the great economic and demographic development happened after 1000 a.C: in the 10th century it was a small village governed by the Bishop of Volterra, but later became a real town with 72 towers and rich palaces. In 1099 a.C it proclaimed itself a free community governed by two Consuls and then by a Podestà. The reasons of this economic miracle are the geographical location and the production of saffron, that was also exported outside Italy. Like all the most important commercial centers, was enriched thanks to financial speculation. In the 13th century the village was hit hard by the peak and in the 14th century, the conquest of Florence leds to a period of crisis ended up only in the 20th century when this medieval jewel was finally restored.
Tuscany Ride a Bike can take you to this amazing place, to discover not only the medieval village but also the whole Val d'Elsa. Furthermore, San Gimignano is famous for the production of delicious tipical foods and the cycling race "Granfondo of Vernaccia" takes its name from the famous white wine of San Gimignano!