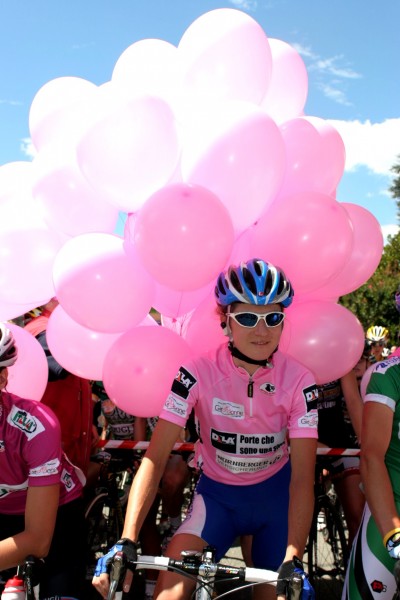 After the interview with Stefano Scarselli, famous mechanic of Cipollini, Cancellara and Nibali, just to name some of the most important cyclists, we want to show you the world of professional cycling from behind the scenes and today we are going to do it with a great champion, Edita Pučinskaitė, the only woman who won Tour de France, Giro di Italia and the World Championship, and the only one who held the yellow jersey of the Tour from the first to the last stage.
Good morning Edita! Thank you for talking to us. In front of a great career like yours, we don't know where to begin to talk about it, so I would start from the beginning: how did you start this sport? Sincerely, it was a revenge. When i was 13 years old, i lived in a little village in Latvia, at that time part of the URSS. I loved athletics since when I was young and I dreamed of winning the marathon and take part in the National Institute of Sports, where practice all the best athletes of the entire nation. I was sure to got it, because I had already beaten other competitors, but the head coach told me that I had not enough character to win in the sports. I was very disappointed but before giving up, I experienced with cycling; i didn't win the race but the cycling coach ask me to join the team because of my talent.
So you finally decided to become a cyclist? Uhm..not really. The day after that race, the athletics coach called me back to join the team, and she wanted me to decide in the next day. Infact I had only one night to decide and it was really difficult because I loved athletics, but I was also beginning to enjoy cycling and my coach believed in me; furthermore, my mother was afraid of cycling but always supported me in every decision.
It's not easy to decide your own future when you're only 13 years old but if we look at your marvellous career, we are sure that you took the right decisio
Sincerely it was the opposite! That morning, when I wake up, I decided to do athletics but when I faced the coach, she even did not make me speak and said that cycling is a tough sport and I have not enough strenght to do it. Then something changed in me and I told her that I would do cycling. Sometimes life is strange and just a few words can change it!
This was the beginning of the story of a legend of cycling women who, as we heard, began to revenge, a good story to tell you that we will continue in future articles ...
---
Gallery